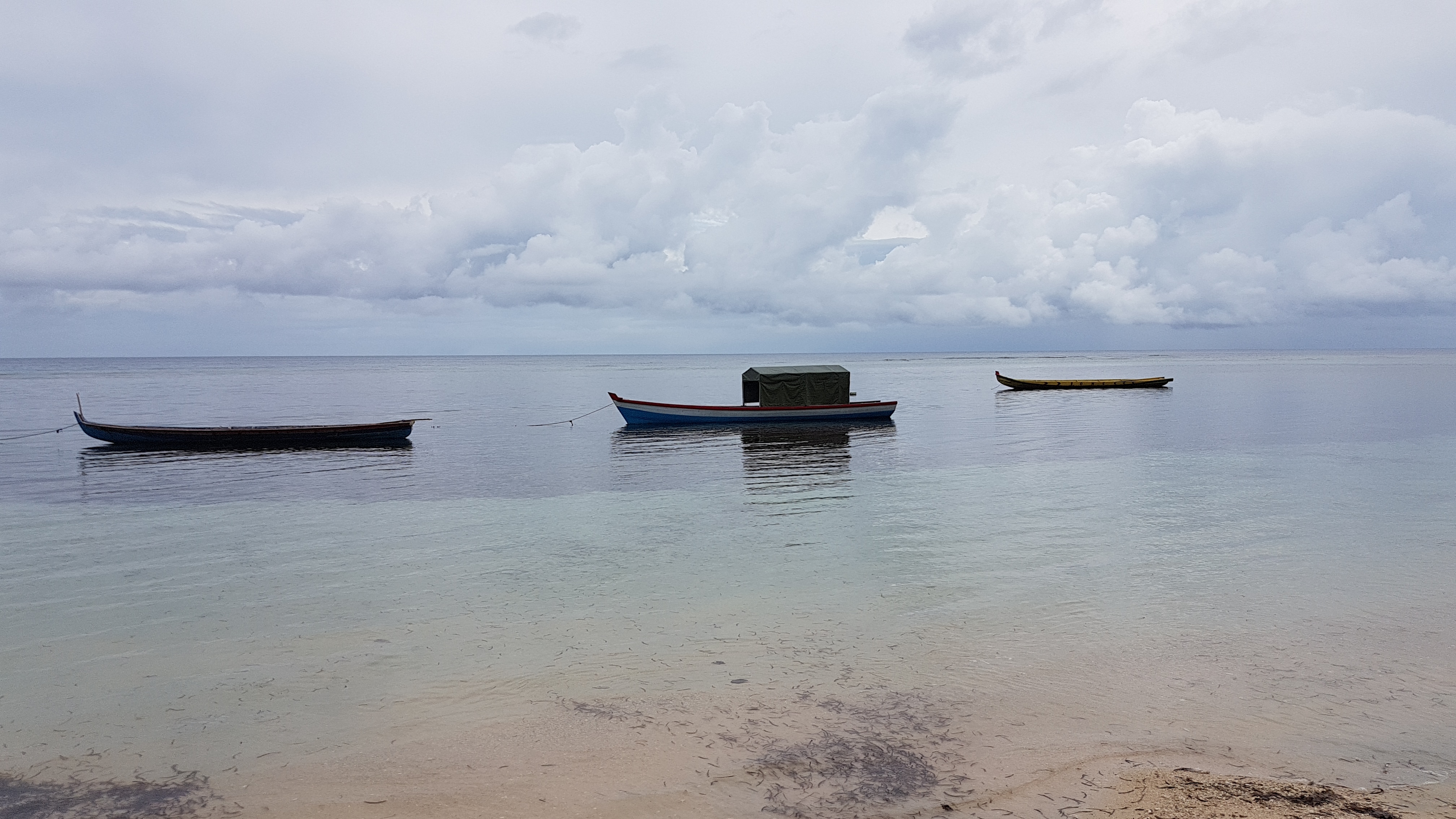 Enggano, with about 1500 speakers, is spoken on Enggano Island, off the southern coast of Sumatra, Indonesia. Enggano is classified as "threatened": only the elder generation are fully competent and fluent speakers. Many children speak Indonesian and little to no Enggano. Intensified contact with non-Enggano speakers is likely to continue and spread throughout the island, to the detriment of Enggano.
Our work on the Enggano language began with a pilot visit in February 2018, where we met with elders of the five Enggano clans, recorded some traditional stories, and worked with some younger speakers to record some verbal paradigms. We also visited an elementary school and the high school, discussed our project with the headmasters and some of the teachers, and gave presentations about our project to the students.
In 2018-2019 we received funding to continue the project from the Endangered Language Fund (2018-19) and Oxford's John Fell fund (2018-19). In 2019 we were awarded a grant by the Arts & Humanities Research Council, UK for the project Enggano in the Austronesian family: Historical and typological perspectives, and in 2022 we were awarded a second AHRC grant, Lexical resources for Enggano, a threatened language of Indonesia.
Bahasa Enggano, dengan sekitar 1500 penutur, dipakai di Pulau Enggano, yang terletak di lepas pantai selatan Sumatera, Indonesia. Enggano diklasifikasikan sebagai "bahasa-yang-terancam": hanya generasi tua yang sepenuhnya kompeten dan berbicara secara fasih. Anak-anak kebanyakan berbicara dengan bahasa Indonesia dan hanya sedikit yang memakai bahasa Enggano. Kontak yang intensif dengan penutur non-Enggano kemungkinan akan berlanjut dan menyebar ke seluruh pulau, sehingga hal ini akan menyebabkan bahasa Enggano semakin tergusur.
Pekerjaan kami tentang bahasa Enggano dimulai dengan kunjungan awal pada Februari 2018, di mana kami bertemu dengan para tetua dari lima klan Enggano, merekam beberapa cerita tradisional, dan bekerja dengan beberapa penutur/ pembicara yang lebih muda untuk merekam beberapa paradigma verbal. Kami juga mengunjungi sekolah dasar dan sekolah menengah atas, mendiskusikan proyek penelitian kami dengan kepala sekolah serta beberapa guru, dan memberikan presentasi tentang proyek ini kepada para siswa.
Pada 2018-2019 kami menerima dana untuk melanjutkan proyek dari Endangered Language Fund (2018-19) dan Oxford's John Fell Fund (2018-19). Pada 2019 kami dianugerahi hibah penelitian oleh Arts & Humanities Research Council, Inggris.